Jay'sen
ART MUSIC LIFE
To access each individual site just click on the appropriate Header above:
My Current Paintings; My Older Paintings; My Signs etc.
In the following pages you will see a collection of my artistic endeavors and will hopefully understand the Message which i try to tell.
Please read my 'About' page where i explain a little deeper my intentions as an Artist/Musician and a man.
All images are Copyrighted ©️ Jay'sen.
Jay'sen is a psudonym for Jay A. Olsen
All Rights Reserved.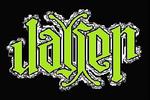 The above logo is an ambigram that i designed before they had computers that do it now. It says Jay'sen either straight on or upside down. Trippy, huh!